Welcome to Poison Candy, a Junko Mizuno fansite. Here you can learn all about Mizuno-sensei and her artworks. Junko Mizuno has greatly influenced the world of manga with her unconventional manga style of artwork. Her manga are in full color and she doesn't draw it in traditional manga format. I think she has opened a whole new window for aspiring manga artists. She has very dark but cute mood and style to all of her pieces and I think she mixed the two feelings effectively. Thank you for coming to my site.
Love U*SA*Mi
If you have any comments, suggestions, and or death threats, please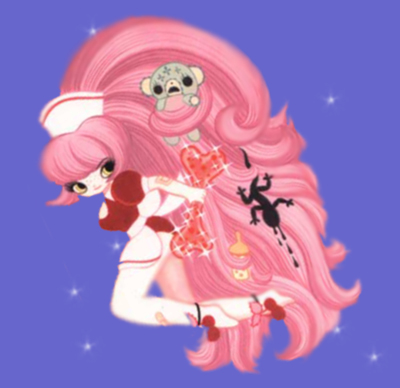 About...
Name Junko Mizuno
Most Frequently Used Medium Digital
Born 1973 in Tokyo
Resides in Tokyo
Time Period of Art 1996-Now
School(s) Attended Highschool
Music Rob Zombie & The Spice Girls
Blood Type O
Favorite Movies "Santa Sangre" by Alexandro Jodorowsky and "Showgirls" by Paul Verhoeven
Inspirations Classical Anime & Manga Art, Grotesque Imagery, Bettina Rheims, Pierre et Gilles, & David LaChapelle
First Exhibition 1998 "Hell Babies" held at Art Wads in Shibuya.
First Graphic Novel 1998 "Pure Trance" released by East Press.
Artistic Style/Movement Kawaii Noir (Dark Cute)
Navigate...
Home
Works
Gallery
Credits...
Site (c) U*SA*Mi
Layout (c) U*SA*Mi
Images (c) Junko Mizuno